ANSA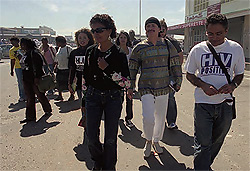 ANSA delegates with Zackie Achmat of the Treatment Action Campaign.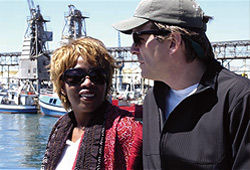 ANSA founders Alfre Woodard and Roderick Spencer on return trip from Robben Island.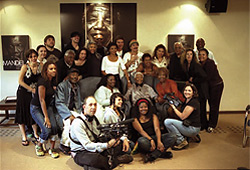 The 2006 ANSA delegation with former President Nelson Mandela at the Mandela Foundation in Johannesburg.
Artists for a New South Africa (ANSA) is a nonprofit organization working in South Africa and the US to combat HIV/AIDS, assist children orphaned by the disease, advance human and civil rights, and educate and empower at-risk youth.
Founded in 1989 to support the struggle against apartheid, ANSA is providing comprehensive care and services for over 4,000 South African AIDS orphans, has raised over $9 million for effective African nonprofits, shipped over 70 tons of medical supplies and books to poor communities, and educated millions in the US and Africa about HIV/AIDS and voting rights.
ANSA is founded, led, and supported by noted artists, activists, philanthropists, and volunteers in America and Africa working together to create lasting change.
Click here to find out more about ANSA and how you can take action:
Artists for a New South Africa
2999 Overland Avenue
Suite 102
Los Angeles, CA 90064
310.204.1748