Buy the DVD
(36 Mins.)


> Public Libraries, High Schools, Community Groups
On Sale Exclusively on this website.
Proceeds from the sale of the DVD go to support ANSA.
'Road To Ingwavuma' is a moving and beautifully made film that captures the progress and important work being done for the HIV epidemic in South Africa. As medical students, we are often inundated with facts, figures, diseases, and drugs, so we can easily forget the very real people affected by the conditions we study. 'Road To Ingwavuma' personalizes HIV, but at the same time it does not bombard the audience with poverty and illness. Focusing on the overwhelming devastation of HIV is often the case with international health documentaries, but this film deftly balances inspiration with reality. This unique attribute allows the film to engross and teach an audience of students and medical professionals. Anyone interested in international health should watch this film.
-Bryan McColgan, Medical Student, Columbia University College of Physicans & Surgeons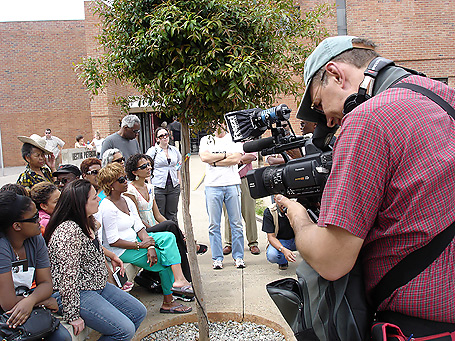 ANSA Delegates hear Murphy Morobe's story at the Hector Pieterson Museum.