Deborah Santana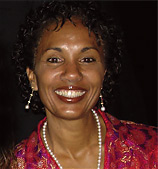 Deborah Santana, Executive Producer & Narrator
Deborah Santana is an author, philanthropist, activist for peace and social justice, and mother of three extremely loved children: Salvador, Stella and Angelica Faith. Her memoir, Space Between The Stars: My Journey to an Open Heart, was published in March 2005 and a new memoir is scheduled for holiday season 2009.

Ms. Santana is founder of Do A Little, a donor advised fund at the SF Foundation that helps women become healthy, educated and happy, and a Board member for ANSA (Artists for a New South Africa. She mentors girls and young women, and is a supporter of Marian Wright Edelman's Freedom Schools in New Orleans.

Ms. Santana is joyously connected with people who work together to serve the good of all of humanity, and in response to a 2006 trip to South Africa, produced a film about the services provided to children and families affected by HIV/AIDS: Road to Ingwavuma.
Ms. Santana believes life is to be lived with integrity, compassion and love. She tells her personal stories to share her strength and encourage others on their journeys.

Barbara Rick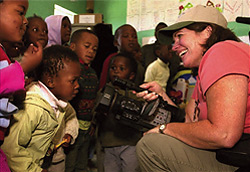 Barbara Rick films the children at Philani Nutrition and Development Center.
Peabody and Emmy award-winning filmmaker Barbara Rick is president and founder of Out of The Blue Films, Inc., creator of critically and commercially successful films that explore, articulate, educate and celebrate humanity. In October 2006, Ms. Rick was invited by Deborah Santana to film her family's first trip to South Africa. Led by Artists for a New South Africa, this unique delegation included Carlos Santana, Samuel L. Jackson, LaTanya Richardson Jackson, Alfre Woodard, CCH Pounder, Jurnee Smollett and others dedicated in the fight against AIDS and extreme poverty.
Shot by Ms. Rick and her cinematographer husband Jim Anderson, ROAD TO INGWAVUMA (ing-wah-VOOM-ah) is a powerful documentary about this remarkable trip and ANSA's continuing efforts to be of service to the people South Africa, especially its children. The film features appearances by Former President Nelson Mandela and Archbishop Desmond Tutu and many other distinguished heroes.
ROAD TO INGWAVUMA has been chosen Opening Night Film at the 2008 Boston Int'l Film Festival, Closing Night Film at the Creatively Speaking series at the Brooklyn Academy of Music, and is an official selection of the 2008 Mill Valley Film Festival.
In 2004, Ms. Rick won numerous honors at festivals around the world for her acclaimed feature doc, IN GOOD CONSCIENCE: Sister Jeannine Gramick's Journey of Faith. This cinema verité portrait of an American nun facing down the Vatican in support of gay and lesbians was shot by the legendary Albert Maysles, who describes Ms. Rick as "one of the very best documentary filmmakers I know."
Ms. Rick also directed, produced and co-wrote the 2001 PBS film, SHE SAYS/ Women In News for which she won the Outstanding Informational Programming - Long Form Emmy Award and was cited as a 2002-2003 DuPont-Columbia award finalist. SHE SAYS received major funding from the John S. and James L. Knight Foundation and The Ford Foundation. Also in 2001, Barbara Rick directed and produced the film, SOUNDS SACRED, which looks at how human beings connect with spirituality through the tool of sound.
Ms. Rick's documentaries have received generous grants from Ellen DeGeneres, Susan Sarandon, Trudie Styler, Agnes Gund, Tom Fontana, Deborah Santana, the van Ameringen Foundation, the Andrew Goodman Foundation, the Aloe Investment Corporation and many others. Barbara Rick served as a freelance writer/producer at ABC News from 1994-2005 where she wrote copy for network anchors Charles Gibson, Peter Jennings, Barbara Walters, Diane Sawyer, Bob Woodruff, Terry Moran, and Elizabeth Vargas.